News and Views
Season Kicks-Off With Preston Visit
04 August 2016
By Hob Nob Anyone?
Reading kick-off the new 2016/2017 season with a home fixture against Preston North End this weekend. After a very busy summer, the Royals will take to the pitch with a very different side under a very different management team. Jaap Stam will lead Reading out for a competitive fixture for the first time as he begins his senior managerial career at the Madejski Stadium. The first team squad will certainly feature a much changed set of names, and it seems certain that some of the summer's arrivals will make their competitive debuts.

With Stam admitting that he remains unsure what his best team is likely to be, the starting eleven is likely to be difficult to predict. After the Dutch influx of players and management, Reading fans will be expecting a much changed style of football this season. It will be interesting to see how they will adapt to life in the English Championship, and how successful we will be this season. Opinion on how we will fare is widely split again this season, but there is a sense of realism after a couple of disappointing seasons.

Stam is keen to set expectations, and urged all involved to be patient: "If you look at the league, there are teams in there who will make it hard to be in the top ten. You can't expect us to end up in the top six." Mid-table would be more than acceptable in Stam's first season - if he is given that long. With the Thai owners obviously continual high expectations, we will all be hoping that Stam can steady the ship to prevent another mass exodus of players and management that would set us back another season or two.

It remains hugely disappointing that former manager Brian McDermott was treated so badly on his return to the club, but stability is more important than ever this season, and everyone will be behind Stam. Saturday's game takes on extra importance as it is followed with a really tough start to the new campaign that includes trips to Wolves and Newcastle. Points will be needed on Saturday or we could find ourselves starting the season at the foot of the table with an instant uphill battle required.

Preston finished the season in 11th place last season, six places above the Royals, and will also be hoping for better things this season. However, no-one finished the season as badly as Reading as we stumbled over the finishing line with just a single point from our last seven games. Apart from the first few months of the season, the whole thing was a write off, whoever was in charge. Hopefully the dramatic changes can finally change the downwards trend at the club and inject some much needed excitement.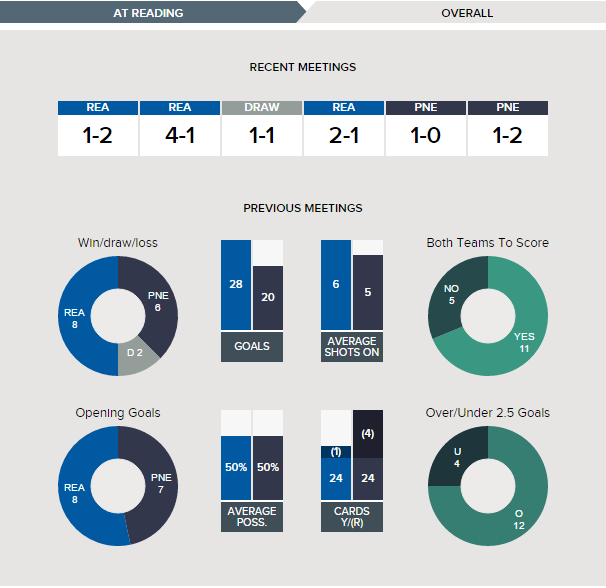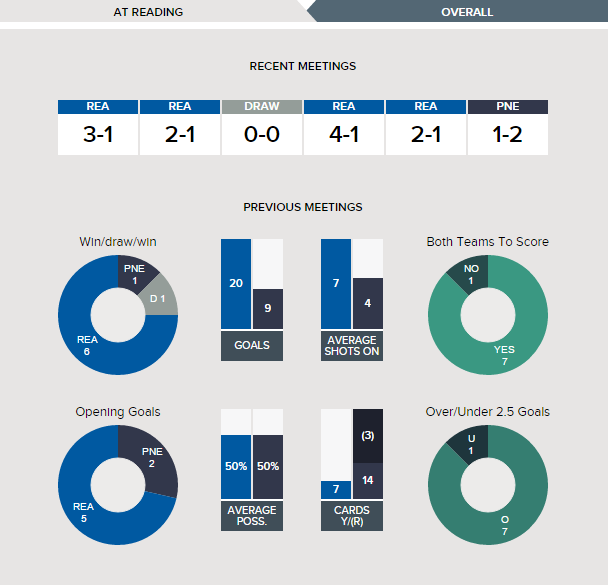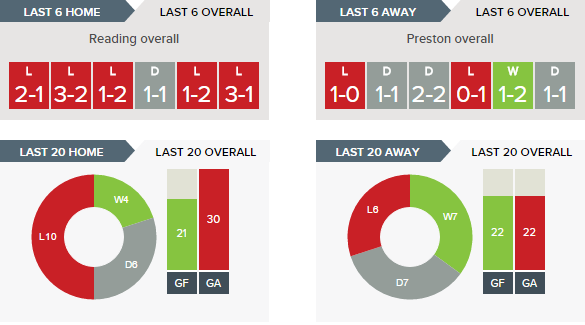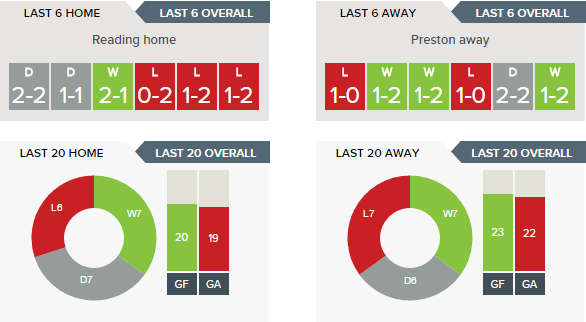 Graphics supplied by
KickOff
.
Discussion On This Story:
Share this article: