Reading Football Club News: February 2017
Last Chance To Challenge For Top Two
24 February 2017
By Hob Nob Anyone?
Reading travel to Brighton this Saturday knowing that only a victory will keep alive any outside chance of automatic promotion this season. Following Tuesday night's 0-1 defeat at promotion rivals Huddersfield, the Royals are 8 points behind second placed Brighton but have also played an extra game. An unlikely Reading win would keep the dream alive, but any other result will realisitically confirm that the Royals only chance of promotion this season will be through the play-offs. Reading are currently well clear of seventh placed Fulham but will still need to maintain decent form to finish in the top six.

Neither Reading or Brighton have any new injury problems ahead of the game, and Jaap Stam has options to shuffle things around after Tuesday's defeat. Paul McShane was back from injury mid-week but ended up being an unused substitute. Reading only conceeded the single late goal at Huddersfield but McShane may still find himself back alongside the ever reliable Liam Moore as Reading look to keep Brighton out.

Joey Van den Berg is fit but may find that he unable to get back in the starting eleven after Stam strengthened his squad during the transfer window. Grabban and Kermorgant again were not paired together with Kermorgant replacing Grabban from the bench with 20 minutes to play - perhaps Stam may change things up front as Reading will need to find the net. Popa looked very lively when he played the last half an hour and will be hoping for more involvement this weekend.

Reading have lost to Brighton just twice in their last 15 meetings (both 0-1 away defeats) and have won 8 of those fixtures. This season we drew 2-2 at the Madejski Stadium back in August before a surprise 2-1 victory at Brighton in the League Cup. Quinn and Swift were on the scoresheet that evening. Unfortunately our last league game in Brighton was one of those 0-1 defeats - and it will be Brighton who are firm favourites for the victory and another big step towards a top two finish and a place in the Premier League.

The game is being screened live on Sky Sports this Saturday, with a 5:30pm kick-off.
Recent Meetings With Brighton and Hove Albion:
Tough Run Starts At Huddersfield Tonight
21 February 2017
By Hob Nob Anyone?
It's third versus fourth tonight as Reading make the trip to Huddersfield looking to cement a place in the top six and keep in touch with the top two. With a visit to Brighton coming up at the weekend it's make or break time on an outside chance of automatic promotion. Only six points will do if Reading want to stay as contenders for a top two finish. The gap between Reading and seventh place is nine points but that could soon be eroded if these two games bring two defeats. Many, both inside and outside the club, still think that Reading's position in the table is somehow "false" rather than just suprising. Tonight's game is a real chance to prove our promotion credentials - if only we can avoid defeat.

When Huddersfield visited the Madejski Stadium earlier this season it was Reading that picked up the three points thanks to Roy Beerens who scored the only goal of the game. That was way back in September, but after the game Huddersfield were second and Reading were fourth - so little has changed since then. Both sides have had dips in form inbetween but it has been a suprisingly consistant league season from both clubs. Last season we were beaten 1-3 in the League at Huddersfield but drew 2-2 in the FA Cup before winning the replay 5-2 at home after being two goals down. There is a lot of recent history between the sides and the record is very evenly split.

Having waited a week for a game after last Tuesday night's dramatic 3-2 victory over Brentford, Reading have no new injury concerns. The Royals will have both Paul McShane and Joey van den Berg available for selection after they have completed their returns from injury. The return of McShane is great news as Reading look to tighten the defence and Jaap Stam is seriously spoilt for choice with loan defender Reece Oxford having to sit it out on the bench. Oxford will have to keep waiting with McShane and van den Berg probably both above him in the selection order.

Stam is also spoilt for choice in midfield. Swift scored an important first goal of the game against Brentford but Reading looked much improved after a triple substitution that included Evans joining the action as Reading turned the game around. Beerens will also be hoping to start but may find the competition for a starting place too tough. Grabban is yet to make a real impression at the club but Kermorgant looked strong when he played the last twenty minutes against Brentford. So many options!
Recent Meetings With Huddersfield
Royals Legend to Head Rangers - Expected or Not?
21 February 2017
By Guest Post
The news has it that Graeme Murty, legendary Royals player, has been elevated to temporary manager of Rangers after the resignation of current manager Mark Warburton and his assistant David Weir. However, there seems to be a bit of confusion in the move as it appears as though Warburton didn't know the change was taking place. Was it just sooner than he expected or did he not actually tender his resignation? While it may seem like a moot point at this juncture, any amount of tension could interfere with Rangers' performance and this might set bookmakers throughout the country at odds in how to calculate odds when taking bets! Here is what we know so far.
News Hits the Stands 11 February
Our own getreading.co.uk had a write up on the Reading great, Graeme Murty, stating that he had been named interim manager of the Scottish football club, Rangers after Warburton and Weir resigned. It was posted that Warburton acted surprised at being replaced as did Weir and Frank McParland who is also said to have resigned from his position as recruitment head. This leads fans throughout the UK to ponder the move and if there were really resignations prior to moving Murty up or if those were unexpected events that the owners felt would be good for the club.
Statement Issued by Dave King
Amidst Warburton's denial of having turned in a resignation, Dave King, the chairman of Rangers made an official statement that the club had accepted Warburton's resignation. The controversy surrounds how the resignation was handed in and whether or not the three had any knowledge of what their agent was doing. According to King, he was approached by the agent who said they would resign immediately if Rangers would waive any compensation agreement coming from a new club the trio wished to sign with. In respect to who delivered the resignation to the Rangers' chairmen, there is some amount of controversy because there is still the question as to whether or not it was official or precipitous on the part of the Rangers' chairman.
Can Royals Legend Lead the Rangers to a Championship?
Then there is the fact that Royals legend, Graeme Murty who captained the Royals to an astounding championship back in 2006, was already with Rangers from last August of 2016. Being familiar with the team and working with them for the past half year may make a difference in the transition, albeit a temporary one. It was his lead of Reading to the 2006 promotion that took them to the Championship with 106 points. After eleven years with the Royals, diehard fans are eager to see Murty succeed, except at the cost of their own Royals. Another tension, for sure! A Royals legend leading another club to victory? It's debated how fans will take that news if and when it comes but at the moment, Royals fans are proud of their former player and wish him well.
Because such things as management do affect the way in which players function on the field, bookmakers are yet unsure how to calculate odds, not having many games to judge by. It will all work out in the end once the change is made clearer and if Warburton gives up willingly, but in the meantime, you may find various odds between bookmakers as each has a different take on how to rate players and teams. For the time being, the Royals are proud of their former star, Rangers have a temporary manager and Warburton and King can duke it out, off the field.
Reading 3-2 Brentford: Things We Learned
16 February 2017
By Alex Bower

Reading fought their way back to victory on Tuesday evening with the eventful fixture against Brentford ending 3-2. Despite going ahead through John Swift, the Royals let their lead slip in the second half. Goals from Jota and Lasse Vibe after the hour mark gave Brentford a 2-1 lead. Danny Williams led the Reading comeback with his goal before substitute Roy Beerens fired into an open net for what would be the winner. After an eventful game, here are some of the things we learned.
Passion And Belief Grows By The Game

While the game didn't exactly go to plan for Reading, it was a hard fought win for the home side. In previous seasons the squad would have collapsed when they went behind but this season it is clear their mental toughness is on a different level. Yes, some of the players had a few choice words to say to each other when Brentford took the lead, but it is obvious that this team believes they should be winning and will push themselves in order to do so.

All you need to do is have a look at the picture of Liam Moore that circulated on social media straight after the game to see what it meant to the squad. The defender wasn't alone, however, with the team urging the crowd to make some noise (including Garath McCleary who made the effort to appeal to those in attendance despite being run off his feet).

As a Reading fan it was at times a stressful one to watch but the atmosphere after the third goal and at full-time is why we keep coming back.
Defensive Frailties

It's something that is talked about a fair amount in recent games but against Brentford in particular it was a worry. As Reading fans will be all too aware, Captain Paul McShane, Joey van den Berg and Tiago Ilori are all currently missing through injury. Tyler Blackett has done a fairly good job at filling in at centre-back in the past but their absence is being felt.

The other concern will be for Reece Oxford. Apparently rather than play a natural centre-back in that position, Stam would rather play Chris Gunter there and drag Danny Williams back to right full-back. While it is impressive that Reading are still winning without their steadying influences at the back, the sooner they return the better.
More In Midfield

One of the main concerns during the game was the ease at which Reading gave the ball away in midfield. John Swift, in particular, has not been the same player he was prior to his injury but is still managing to pick up goals. On several occasions, however, it was his passes that failed to find their target.

In fact the final ball was a problem for the Royals for a large portion of the game with a lot of attacking plays collapsing due to a poorly placed pass. One player who has stood out to me in recent times is George Evans. His steady influence in front of the defence is much needed and he showed his class when brought on against Brentford.

Whether it was due to tiredness or just lack of concentration, there were far too many errors being made in midfield that will hopefully be ironed out before the next game.
Player Positioning

As has been mentioned, Stam has several injuries to contend with and that has been shown with his recent squad selections. Those teams would also suggest that the manager definitely has his favourite players in the squad who he wants to play regardless of position.

Take, for example, Garath McCleary. The winger has done an amazing job this season for the Royals and has subsequently been a vital player for the team. Against Brentford he lined up as a striker alongside Lewis Grabban. In the past he has also played as a winger and a full-back. Despite being a similar kind of player to Grabban, Stam opted to play the pair up front.

McCleary is most effective when he is running at defenses down the wing. At times it seems that Stam needs him in the team but plays him in different positions as to where he can fit him in that day. It's a similar scenario for players like Grabban who has already played as a central midfielder and striker, Williams as a central midfielder and full-back and a variety of left/right-backs filling in at centre-back. Oh and don't forget striker Yann Kermorgant the part-time defender.

At times it has worked, at times it hasn't. You can't help but think, however, that the straightforward option of playing squad members in their best positions would be the most effective plan.
A Win Is A Win

One thing that Reading fans are particularly good at (myself included) is analysing games in depth regardless of results. Each game there will be things teams do well and things that they don't do as well. At the end of the day, however, you just have to take every game as it comes and do what you can to win.

Reading took the lead, lost control of the game for a large spell and then lost the lead to boot. They didn't give up, however, and thanks to some great substitutions from Stam (which arguably could have been a little earlier) they managed to grab the win. There will be things for Stam and his squad to work on before the next game but the most important thing is that Reading have kept up with their promotion rivals ahead of some very tough games.
Royals Snatch Win In Five Goal Thriller
15 February 2017
By Hob Nob Anyone?

In a quite remarkable match Reading somehow snatched a victory from an excellent Brentford side. It was a game which had everything. A heady cocktail of great goals, superb defending, free flowing play from both teams, and numerous errors (not least from referee Stroud) which produced one of the most entertaining games of the season. Brentford fans will be wondering how they lost a game in which they played some outstanding attacking football and outplayed Reading for long periods of the game. Royals fans will not care having seen their team come back in spectacular fashion and move within touching distance of the play-offs.
Read More...
Match Preview: Reading v Brentford
14 February 2017
By Alex Bower
"Brentford have got a great team. They like to play football as well. They have quality players upfront, in midfield, well basically everywhere in their team. We've seen that if you give them time and let them play then they are going to make it very difficult for us."
- Reading FC Manager Jaap Stam
"We know this league is hard and that every team will make it difficult to get a win. There will be more surprises to come, so we need to concentrate and keep going. Tuesday is another game we'll be trying to win."
- Reading FC Striker Yann Kermorgant
While the Valentine's Day fixture is not ideal for some Reading FC fans, the Royals will take on Brentford FC on Tuesday evening. Reading will be hoping to improve on their 0-0 draw at the weekend against Barnsley while Brentford will want to bounce back from a 4-2 away defeat to Preston North End.
Jaap Stam's men will have been disappointed with what was their second draw on the bounce. The Royals are, however, still very much in the promotion race and currently sit fourth in the Championship table.

The continuing concern for Reading will be their defensive injuries. Paul McShane, Joey van den Berg and Tiago Ilori remain sidelined while Jordan Mutch may miss out again after picking up a knock. Brentford manager Dean Smith, meanwhile, has no new injury worries but will be without Rico Henry, Alan Judge and Lewis Macleod.

Reading will once more go into the game as favourites but, as the Barnsley result demonstrated, anything can happen in this league. Brentford also happen to be somewhat of a bogey team for the Royals, with the Bees winning five of their last seven league meetings with the Berkshire club.

Regardless of result, the game should have plenty of plenty of goals if history is anything to go on. Brentford won the reverse fixture 4-1 back in September and their six league games in 2017 have seen 25 goals scored (13 for and 12 against). If Reading can show signs of improvement on the attacking front and cope with the ever worsening surface, then this game could be theirs for the taking.
Is the Tish coming home? A Villa fan's view
14 February 2017
By Villa Till I Die
Jack of Villa Till I Die investigates Aaron Tshibola's rather underwhelming first half-season at Villa Park. With the midfielder already sent on loan to Forest for the remainder of the 16/17 campaign, Jack wonders whether a return to the Madejski at the end of the season is on the cards.

It's fair to say our clubs haven't had much cross-over in terms of comings and goings in the transfer market. Nicky Shorey, who as you know, spearheaded Reading's 2005/2006 promotion to the top flight came to Villa Park in 2008 but was unable hold down a regular starting spot under then-manager Martin O'Neil. We also acquired the services of Steve Sidwell after his bench-warming 2007/2008 season at Stamford Bridge, but similarly, the English starlet failed to pull up trees over in the West Midlands.

With Aston Villa being a club barely-recognisable since the heady days of those top 6 finishes in the late noughties, it wouldn't be until last summer that our two clubs would cross paths again following the July 10th capture of Aaron Tshibola.

The 22-year-old arrived at Villa Park with very little known about him. After browsing Reading forums and blogs at the time, I remember getting the feeling that Tish certainly made his presence felt when he put on a Reading shirt. He played just 12 times for the Royals in 15/16 but his promising debut season got cut short after a rather unfortunate hamstring injury.

Operating mainly as a holding player, it seemed as though his so-called energy and enthusiasm to get around the pitch would stand us in good stead in a league which tended to reward guts and physical desire over technical showmanship.

But despite given a good run out in the side by ex-manager Roberto Di Matteo, the midfielder's equalising goal against Newcastle United back in September ended up being his only positive contribution in a Villa shirt. Not for a lack of trying, Tish just couldn't assert himself in Villa's midfield.

Under the weight of expectation from Villa's disillusioned fan base, RDM was in a race against time to find a starting line-up and formation which would help propel us back to the Premier League at the first attempt. But with Villa's starting 11 and tactics changing more frequently than the British weather, Tish along with many other players, never got settled in a team which itself, was never settled either.

Will he stay or will he go?

For entirely obvious reasons, his return to Reading hinges on their promotion prospects this season. Should the Royals not go up, given Steve Bruce's spending spree in the January transfer window which saw him bring in three new central midfielders, it would make sense for Tshibola to return to his former club and pick up where he left off before his injury in 2016.

After joining Nottingham Forest on loan along with disruptive teammate Ross McCormack, a good stint in a Reds shirt could tempt the club to sign him on a permanent basis at the end of the season. With Reading themselves enjoying a good season in the English second flight this year, many would argue that Tish's chances of getting back into Reading's team are slim anyway with the likes of George Evans and Liam Kelly performing well in the centre of the park.

Would you like to see Aaron Tshibola make a return to the Madejski stadium at the end of the year?
Royals Seek Revenge Against Brentford
14 February 2017
By Hob Nob Anyone?
Reading will be looking for revenge this evening after their 1-4 defeat at Brentford earlier this season. The Bees visit the Madejski Stadium looking to make it a maximum six out of six points from Reading, with The Royals dropping back from the League's top two after two consecutive draws. Reading will need a victory to show they are serious about promotion this season after recent results saw us drop to 4th in the table and also saw the chasing pack close on the top six.

With over two thirds of the season gone, every result is taking on extra importance - and the Brentford visit is the last chance to pick up points at home before taking to the road for difficult away trips to third placed Huddersfield and second placed Brighton. If Reading fail to win tonight then a February picking up just 2 or 3 points could be on the cards - and that would see us hanging onto the top six by a thread. If the result doesn't go our way tonight then many will point to the curse of the manager of the month award after Jaap Stam picked up the honours for January ahead of a difficult February for his side. A victory tonight will ease the nerves, and instead fans will be talking about Reading's run of 6 games undefeated ahead of the Huddersfield game. Fickle things are football fans.

Stam is expected to have the same squad that drew 0-0 with Barnsley to choose from tonight with McShane, van den Berg, Rakels, and Quinn still sidelined. Jordon Mutch missed Saturday's game through injury and remains doubtful. Brentford have no new injury worries after their 2-4 defeat at Preston at the weekend.
Recent Meetings With Brentford
Reading 0 Barnsley 0 - Things We Learned
12 February 2017
By Alex Bower
Reading were unable to make a breakthrough on what was a freezing Saturday afternoon, but luckily for them neither could their opponents. Despite both sides having the opportunity to grab a winner, the game between the Royals and Barnsley ended in a 0-0 draw.
Here are some of the things that came out of the game.
The Pitch

This is a subject that could easily be discussed before, during and after every game until the end of the season. The main concern is that it is playing into the hands of the opposition when the advantage should be with the home side.

During the game there are two moments that stood out. Firstly Liam Moore looking down at the pitch when the ball seemed to get stuck under his feet and secondly when Roy Beerens nearly managed to fall over twice in succession while simply trying to dribble the ball.

The pitch is making it difficult for Reading to play their style of game but it cannot be used as an excuse. If they are to continue their push for promotion they will simply have to adapt.
Reading Lack Cutting Edge

The Royals failed to score for the first time since their 1-0 defeat to QPR on the 12th January despite having several opportunities to do so. The best chance of the game probably fell to Danny Williams but he failed to properly connect with the ball to make the chance count.

Barnsley deserve a lot of credit for their resolute defending, which made life very difficult for Reading. The Royals, however, did not help themselves with the often slow pace of their attacking play and sometimes stagnant movement.

The pitch will undoubtedly be playing on their mind but here's hoping they play with a bit more tempo on Tuesday evening.
New Signings Look Lively

The first notable thing about Saturday's team was the lack of January signings in the starting eleven. Jordon Mutch scored in his debut for the Royals against Ipswich Town but missed out against Barnsley due to injury. Adrian Popa, Reece Oxford and Lewis Grabban were all included on the bench.

When Grabban was brought on at half-time I was optimistic that he could make the difference for the home side. Then he had a chat with Danny Williams and sat in front of the defence. Now he was not bad in midfield and the signs are promising, but the relationship he has with Yann Kermorgant is somewhat wasted if he is not up front. Popa was brought on for the last eight minutes and it is very difficult to judge someone in such a short space of time. That said, he looks pacey and capable of getting in behind the opposition defence if he can stay onside. The new signings have had limited time on the pitch so far but if the early signs are anything to go by then they will definitely be assets as time goes on.
Brilliant Blackett

Tyler Blackett has been on the receiving end of a fair amount of stick during his time at Reading but against Barnsley he put in a "Man of the Match" worthy performance. Playing at centre-back due to the injuries to Paul McShane, Joey van den Berg and Tiago Ilori, Blackett looked strong and made some vital interceptions. What is becoming increasingly clear is that the ex-United defender is more suited to the centre of defence than the left. It is unlikely that he will remain there once McShane and Ilori return but for now he is doing a great job for the team.
Stam And His Subs

Not for the first time this season, the use of the subs bench by Stam was somewhat of a concern. Without wanting to criticise the newly crowned Championship manager of the month, it would have been nice to have seen him make some of the changes a little earlier.

Lewis Grabban was brought on at half-time, which was great, but in an ineffective position. Adrian Popa was brought on with eight minutes of the game remaining and Yakou Meite was introduced for the last two minutes. Bearing in mind the score was 0-0 and the Barnsley defence would have been getting tired, it would have made more sense to give the likes of Popa and Meite more time to try and make a breakthrough.
The Run Continues

While a 0-0 draw was not the ideal result, Reading are unbeaten in five games and are fourth in the Championship table. Much has been said in recent times about how fans should not be disappointed if Reading don't finish in the top six. When comparing to recent seasons, the top half of the table would be a great result. That said, the Royals have done so well and have a great squad at their disposal so why not push for promotion?
See Also:
Royals Drop Points Against Barnsley
11 February 2017
By Hob Nob Anyone?
A well organised and determined Barnsley side held on for a point in a match dominated by the Royals. Reading huffed and puffed but failed to make the most of some promising situations while the visitors defended resolutely and looked very dangerous on the break.

In fact it was Barnsley who came closest to breaking the deadlock when Watkins hit the post on sixty four minutes. Reading however came close to snatching victory in stoppage time when Williams fiercely stuck shot from the edge of the box was diverted over by 'keeper Davies. Reading started with new signings Oxford, Grabban and Popa in the bench. Swift was also left out, although I am sure he will be back for the home game against Brentford on Tuesday. Stam likes to rotate his squad and keep everyone guessing with his selection.
Read More...
Kermorgant Gets New Deal Ahead Of Barnsley Game
10 February 2017
By Hob Nob Anyone?
It's been another good week for Reading as they prepare to face Barnsley at the Madejski Stadium this Saturday afternoon. Last night Jaap Stam was confirmed as the Championship's manager of the month for January and today Yann Kermorgant put pen to paper to extend his contract at Reading until the summer of 2018. That followed a very positive injury update from Stam in the week which confirmed a number of key players are on the verge of returning to action. Following a successful transfer window that saw a number of Premier League loan players come in, things are looking very positive indeed around the club as they sit third in the Championship table.

A quick glance at the current Championship table reveals Saturday's game is a big opportunity to move ahead of a play-off rival. Barnsley are four points outside the play-off positions, but a Reading victory would pull Reading a huge 14 points clear of the Tykes. It's getting to the stage of the season where victories over teams like Barnsley become a huge step towards securing a top six finish at the end of the season. If things go according to plan then Reading could be looking more likely to to finish in the top six than not, giving us a huge chance to chase that unexpected promotion. A Reading win will see fans looking out for results of the top two; Brighton are at home to Burton and league leaders Newcastle United travel to Wolves. The top two will be expected to pick up further wins there.

Barnsley had gained ground on the top six until picking up just a single point from their last two games. Their last game was a 0-0 home draw against Preston North End, and before that they suffered a hugely disappointing 1-3 home defeat to Championship strugglers Wolves. Any points at Reading would be a big result for them as they look to stay in touch. Reading are of course in great form, with last weekend's 2-2 away draw at Ipswich following on from three straight victories. Earlier this season we were 2-1 winners away at Barnsley with McCleary and Swift both scoring inside the opening half an hour.

As revealed in the week, Paul McShane and Joey van den Berg are expected to miss the home games against Barnsley and Brentford (Tuesday night). The Royals will also still be without Stephen Quinn and Deniss Rakels who are also on the verge of returning to first team action - if they can find a place in the side with competition for places hotter than ever at the club. Visitors Barnsley find themselves without midfielder Alex Mowatt who will be out suspended.
Recent Meetings With Barnsley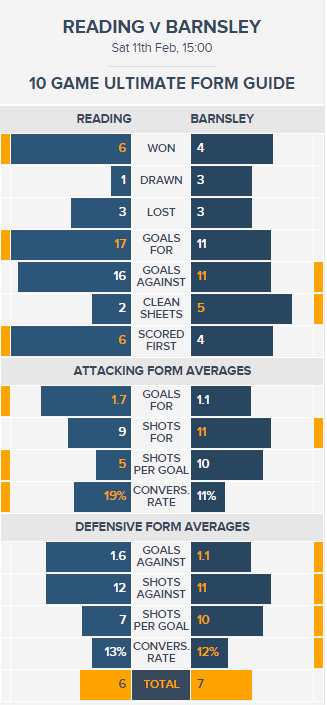 Graphics supplied by KickOff.
McShane And Van den Berg To Miss Barnsley Visit
09 February 2017
By Hob Nob Anyone?
Paul McShane and Joey Van den Berg are both set to miss the next two games as they continue to recover from injuries. The Royals will be without both players ahead of Barnsley's visit to the Madejski Stadium this Saturday. Reading have two home games in the space of four days as they look to pick up points at home to keep the pace with the division's top two. Brentford are the next visitors on Tuesday night, and Reading fans will be hoping for a maximum six points to keep the outside chance of automatic promotion alive.

Despite McShane and Van den Berg likely to be sidelined, Reading manager Jaap Stam delivered an upbeat injury update this morning and he confirmed that a number of key players are on the verge of returning to action but will be unable to face either Barnsley or Brentford. Stephen Quinn has been out for a long time, with his last first team action all the way back in October 2016 - Reading's 0-2 away defeat to Arsenal in the League Cup. However, things are looking up for Quinn with Stam confirming he has at last returned to training with the first team: "He is getting back into the routine of training, small games, big games, getting his match fitness. He's getting there as well, he's feeling a lot better than he was a few weeks ago." The Royals have been getting by without Quinn but, despite the recent arrivals, he remains a very useful player to have available to bring back into the squad.

Meanwhile Callum Harriott remains out with his hamstring injury and defender Tiago Ilori still has his knee in a brace, with Stam expecting his recovery to take "several weeks". Ilori has had bad luck since signing for an estimated 3.75 million pounds from Liverpool a month ago. He has managed just two games and been forced to sit out the last three games. His only start was at Derby County as the Royals slumped to a 2-3 defeat.

Ilori, McShane and Van den Berg's absence saw Jaap Stam snap up West Ham youngster Reece Oxford on loan on transfer deadline day to fill in the middle of defence. Oxford was an unused substitute during Reading's 2-2 draw at Ipswich but will be hoping to make his home debut this weekend. Those that didn't travel to Ipswich will be looking forward to seeing some new faces with Mutch and Grabban likely to play. With other players returning from injury in the near future, Stam is spoilt for choice as he looks to build a promotion challenge.
Jaap Stam appointment looks to be paying off
07 February 2017
By Sponsored Editorial
Reading are currently sitting third in the Championship, looking to book their return to the Premier League for the first time since 2012-13. Looking to improve on their anonymous 2015-16 season, which saw them finish 17th, John Madejski and the club's Thai owners brought in former Man United defender Jaap Stam as manager. His debut as a manager, the Dutchman joins an ever growing list of men who played under Alex Ferguson plying their trade as managers.

It came out recently that Ferguson considers allowing Stam to leave for Italy as one of the biggest mistakes during his tenure at United, and it's hard to disagree with him. With his combination speed, strength, guile and organisation Stam was the complete defender, a terrifying prospect to play against. Now, pundits across the country are looking to see whether he will be able to transfer his quality from the pitch to the dressing room. Early indications suggests he is doing just that, with Reading sitting pretty in 3rd, 5 points behind automatic promotion.

Reading have improved massively in the 7 months since Stam took over in June, after a dismal finish to the 2016 season that saw the end of Brian McDermott's time as manager. A raft of summer signings saw the squad refreshed, and even more quality added during the recent January transfer window, with Lewis Gabbban, Jordan Mutch and Reece Oxford, a bright young defensive prospect from West Ham, all joining on loan until the end of the season. But Stam has certainly been getting the most out of his existing squad, with Gareth McCleary and Yann Kermorgant both on 8 goals for the season so far, and John Swift and Roy Beerens with 7 and 6 respectively.

No shortage of goals, Reading's problem is more in their leakiness at the back, surprising considering Stam's own defensive pedigree; they have only managed 9 clean sheets out of 30 Championship games. Indeed, in the last two months, Reading have been involved with three 3:2 results, winning two and losing one, as well as losing 5:0 to Fulham. Closing ranks will be a priority for Stam, as will reaffirming their solid record at the Madejski; their loss to QPR on the 12th of Jan was the first loss there since mid October, and only their second home defeat of the season.

Looking at Reading's fixtures for the last thirds of the season, the last game of February leading into April is crunch time, with games against Brighton, Newcastle, Preston, Sheffield Wednesday and Leeds. Results against Brighton and Newcastle really could be what makes the difference between automatic promotion and a deadly playoff campaign. Should Reading put together a serious run of form, take 3 points against both Brighton and Newcastle, then anything could happen.

Reading have some crazy outsider value right now, at 125/1 for the title outright, longer odds than Leeds, Derby and Huddersfield, and they are at 9/2 for promotion. Definitely worth a long shot. Enjoy Championship betting!

Author bio:
Writer, journalist, amateur gambler and long suffering Charlton supporter with a background in Politics and academic research. Specialising in European and English football league analysis and predictions.
New Signings Set To Face Ipswich Town
03 February 2017
By Hob Nob Anyone?
Jaap Stam has much more options this Saturday as Reading travel to Ipswich Town looking to build on a run of three straight league victories. Stam saw four players arrive just before the transfer deadline with little outward transfer activity. Adrian Popa, Jordan Mutch, Reece Oxford and Lewis Grabban all agreed to contracts with Reading - the last of those three on loan until the end of the season with Popa signing a permanent deal. Those four new signings are all now eligible to play and are all match fit and ready for action, giving Stam choice in all departments.

All four will be hoping for some involvement even if only in the form of a place on the bench. It will be very interesting to see how they fit into what is currently a very successful side - and who will be sacrificed to make way. With Joey van den Berg and Paul McShane injured, Reece Oxford will be expected to make an immediate start. Ipswich secured the loan signing of Dominic Samuel from Reading on transfer deadline day - but he will not be able to play against his own club. Ipswich will have midfielder Emyr Huws in their line-up after he arrived from Cardiff City on loan.

Ipswich have made a poor start to 2017, after a disappointing first half of the season. After only managing to draw at home to Lincoln City they were then beaten 1-0 in the replay to make an embarassing exit in the FA Cup. That cup defeat has been followed by a 2-0 defeat at Huddersfield Town, a 1-1 draw at Preston, and a 3-0 home defeat to Derby County.

Ipswich are 17th in the Championship table and are closer to the bottom three than they are the play-off positions. Meanwhile both Newcastle and Brighton dropped points in the week and Reading suddenly find themselves just five points off the very top of the table. Reading are a huge 20 points above Ipswich in the table, which shows just how unexpectedly good this season has turned out so far.

Earlier this season Reading were 2-1 winners over Ipswich Town at the Madejski Stadium, with all three goals coming from the penalty spot and Danny Williams scoring the winning penalty in the 90th minute. The Royals have won 9 out of their least 11 fixtures with Ipswich Town:
Recent Meetings With Ipswich Town