<!-GONE-->

Division One

4th February 1995 MIDDLESBROUGH 0 READING 1 (Holsgrove 51 mins) Att: 17,800 READING TEAM: Hislop, Bernal (Taylor), Wdowczyk, Holsgrove, Hopkins, Viveash, Gilkes, Gooding, Nogan (Lovell), Quinn, Jones.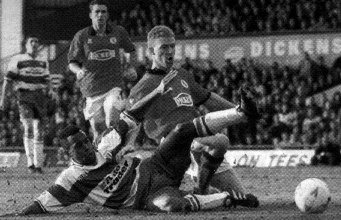 Michael Gilkes during his 20 minutes spell of action during the game.

This should have been the most difficult game of the season. Away at probably the divisions second best team (behind Reading of course). Although maybe the home game was the hardest comparing our away form with our home form this season. So Reading beat the boro by one goal to nil and Boro drop to third in the table while Reading are now just 3 points from the top. It was interesting to read the Sun on Monday which described the Royals as "title rivals". It seems that everyone is finally beginning to accept that its not just a fluke that we are there and that we are making a genuine push for the premiership. I remember towards the end of last year and a match report on 5 live which described Readings success as a short lived fairytale - they have already been proved wrong.

Bryan Robson returned for Boro. While Reading, still without Williams played Viveash (still on loan from Swindon) at the back. Viveash played a comanding game along with the rest of the back who kept it tight. Readings goal came after 51 minutes following a huge boot up the pitch in most likely a random direction from Shaka. The ball landed nicely at the feet of the boss (of the Quinn variety) who held it up a bit before knocking it to someone else who I couldn't quite make out. He pushed it forward to Holsgrove who had just the keeper to beat. He took it wide and round the keeper and knocked it home from out on the left. The two defenders racing in couldn't get there in time, and Holsgroves goal (his first of the season) was the winner.

Although Boro created their own chances they were unable to grab an equalizer, partly because they failed to produce good enough shooting and partly due to some good saves from Shaka, and Reading controlled the game nicely and were well worth the win. Thats two away wins on the trot. Wahay!


Copyright Hob Nob Anyone? © 1994-2003
The Original Reading Football Club Internet Site