16 Jan 1999
Reading 0 Bristol Rovers 6


League
13,286

Howie, Glasgow (Bernal), Clement, Kromheer, McPherson, Parkinson, Caskey, Houghton (Sarr), Gurney, Brayson (McIntyre), Williams.



Gurney

All samples are Real Audio format - you'll need Real Player.
Completely unbeliveable. Words can't really describe the second half seen at the Madejski Stadium this afternoon. Shocking. Embarasing. I still find it hard to believe that we let in six second half goals. It's even harder to believe that the result probably isn't a fair reflection of the game - it should have been at least 0-10. We have Howie to thank for keeping the score down. Poor old Andy Gurney must be wondering what he's done in signing for this lot.
So what was the difference between this week and last week when we beat Wrexham 4-0 at our place with a fair amount of style? Two players: Casper and Brebner - both out suspended. The defence might as well not have been there - without Casper's composure and control it feel to pieces with devastating effects for Reading in the second half. With Brebner missing we suffered from even less creativity in the middle of the pitch than normal. It is very disturbing that with a squad this size we miss two players so badly.
It wasn't just all about how bad Reading were though - Bristol Rovers were amazing, and probably one of the best sides to ever play at the Madejski Stadium. Quite why they're below Reading in the table I don't know. Also their fans were probably worth at least two goals. Playing into their support during the second half fired the players up like nothing I've seen before. And the noise... the 3,000 away fans, that contributed to Reading's second highest league gate of the season, were without doubt the loudest fans ever to visit the Madejski. But they did have plenty to get excited about, 6-0 away wins don't happen too often. The majority of the home fans were out of the ground well before the fifth hit the back of the net - those that didn't were rewarded with more pain as Rovers continued to come forward. Against Bristol Rovers, it's sad to say, but we were pathetic in every way.
Strangely enough though the first half was actually quite promising, although the away side looked marginally better - Reading were applauded off the pitch at half time with the score level at 0-0. Roberts, the number 11, really should have put Rovers ahead on one of two occasions after he was twice set up by Kromheer. The first ocassion Kromheer did enough to push the forward wide and he sent his shot way over the bar. The second was almost a repeat, but this time Kromheer didn't get close - again Roberts tried to chip the ball over Howie and again it dipped well after flying over the crossbar. Reading's attacking contribution came mostly in the shape of Andy Gurney, making his debut for Reading after signing for 100,000 quid midweek from Torquay. Gurney, an old Rovers player, seemed determined to impress. Twice Gurney made storming runs that almost won penalties. The first attempt he did really well to hold off the fullback who was pulling him all the way down the wing and finally brought him down right on the edge of the box. Following that he made a run straight through the middle before being felled, again right on the line. The free-kicks were wasted.
The only other player making an impression up front was Williams who managed to get down the right side a fair few times. Nothing came of it because there was a complete lack of support in the middle. Brayson, although again working hard, was never anywhere to be seen when the crosses come in, leaving an easy tidy up job for the visitors' defence. Glasgow was looking as skillful as ever down the left, creating some decent openings, but then being deprived of the kind of support he should have had. Houghton was set up beautifully once but passed to Williams rather than shooting. Our best attempt of the half belonged to Gurney whose powerful shot from outside the area went narrowly wide of the left post.
The second half. Quite frankly I'd rather not talk about it. However the main difference was Rovers moving up a gear and Reading entirely failing to keep up with the increased speed of the game. As soon as we went a goal down that was it. Rovers continued to push forward looking for more goals and we didn't have a clue what to do about it. So what we did do is let them get in countless shots and let them run rings around our defence. We lost all of our possession, all of the control on the game that we had had, and we were nothing short of a complete embarrasment. Our only attacking contribution came from a Parkie shot when we were already four goals down.
The first came from a ball played through the middle of the defence. Their number 10, Cureton, ran onto it, Howie came out and the Rovers forward stuck it into the back of the net.
The second goal was inexcusable. Clement and Caskey should both be shot for jointly bundling over Roberts for no good reason for the most obvious penalty you're ever going to see. Up stepped Cureton again putting the ball low to Howie's left. Clement then lost it completely and was probably lucky to stay on the pitch for getting way too over physical with Roberts who was giving him so much trouble throughout the half.
More defensive mistakes gifted Rovers their third. Caskey made a bad pass to Kromheer. Kromheer blasted it forward in a particually random manner, the ball bounced back leaving Cureton with yet another opportunity to take on Howie. 3-0. Moments later Roberts set up Cureton again inside the box and he hit his fourth goal home - all in the space of 20 minutes. Reading's spectuaclar collapse was only two thirds of the way through though. Howie then pulled off a couple of excellent saves to keep the score down and a few shots narrowly missed the target.
To try and sort it all out Burns took off Brayon and bought on the entirely ineffective McIntyre and then replaced one of our best creative players in the shape of Glasgow and brought in Bernal from the bench. Sarr replaced the unimpressive Houghton, and then did nothing except pick up yet another booking.
Rovers completed their scoring with two late goals from Roberts who made up for those dodgy first half misses and sent the away fans wild. More shocking defending helped him on his way, and he was able simply to walk past Clement, Kromheer and McPherson like they just weren't there.
I never realised just how vital Casper was until today.
Graham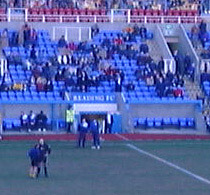 <!-GONE-->
Spot the new sign!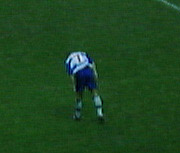 Gurney: "Doh! Why did I sign for this lot....?"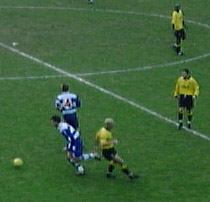 Reading in shock ball winning incident.
Clement: "So what's this round thing for?"
---
- Gossip - Latest - Reports - Articles - Piccies - Interact - Links - About -
---

---