News and Views
Best Behaved Fans Deserve Apology Too
21 March 2014
By Hob Nob Anyone?
The fall out from the Reading Chronicle's rather strange article on football hooliganism continues with a number of national papers joining the debate to blast the Chronicle's association of the Hillsborough Disaster and hooliganism. It does seem odd to say the least that, in 2014, a paper would still make any such association. And that's before we consider that there is no hooligan problem present at Reading FC.

Sheila Coleman from the Hillsborough Justice Campaign said: "At a time when families and survivors are being extra cautious about saying anything to the press and on social media and are adhering to the coroner's guidelines, we have a newspaper being wholly irresponsible. It could be seen to be being provocative and provoking a response."

Meanwhile we've taken a look at the latest arrest statistics available - which would be last season's Premier League records taken from the Home Office report. Fans of Reading Football Club, singled out as trouble makers by the Reading Chronicle, were the best behaved last season with just 9 arrests. Fulham were the only other club with such a low number. Reading's arrests amount to much less than 1% of the total arrests in the top tier last season. "Well behaved" doesn't go far enough.

The Chronicle article also stated that racial abuse was a problem on their front page - there were precisely 0 Reading fan arrests for "racist or indecent chanting" last season. The paper claimed the problem was both at the Madejski Stadium and away from home. At the Madejski Stadium just a single Reading FC fan was recorded as being arrested all season - a record only matched by Wigan. Violent disorder? Reading again had zero arrests relating to that. Lets take another look at the Chronicle front page "Exploding Flares" is another big problem - it earned it's own bold bullet point so must be a big deal. The corresponding statistic is arrests for "Use or Possession of Fireworks or Flare". Reading's grand total on that one? Zero out of 34 for the Premier League last term.

Meanwhile the Chronicle have issued an apology on the Hillsborough association: "Berkshire Media Group, publishers of the Reading Chronicle wish to apologise unreservedly for appearing to link football hooliganism with the Hillsborough tragedy on our front page of this week's issue. It was never our intention to do so and we fully accept that hooliganism played no part in the tragic events of 15th April 1989." We can only assume the apology for Reading Football Club and its supporters is being typed up right now.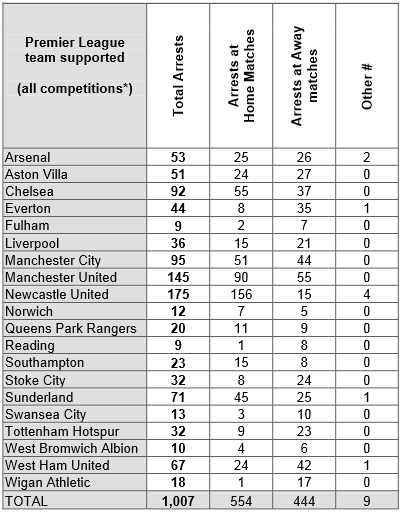 Source: Official Home Office Report: Statistics on football - related arrests and football banning orders Season 2012-13
Share this article: