News and Views
Transfer Deadline Day - Yakubu Signs
02 February 2015
By Hob Nob Anyone?
Former Portsmouth, Middlesbrough, Everton, Leicester City and Blackburn Rovers striker Yakubu has signed for Reading on transfer deadline day. The 32 year old striker, who has an excellent record in English football, was looking for a move back to England and is happy to take a pay cut as he approaches the later stages of his football career. Yakubu is reported to have attended a medical at Southampton earlier today prior to agreeing a short term contract with the Royals to keep him at Reading until the end of the season. Before signing for Reading, Yakubu was a free agent after playing in Qatar earlier this season.

Steve Clarke is faced with a serious lack of budget on transfer deadline day as he attempts to strengthen the squad for the remainder of the season. Clarke has serious limitations on both immediate spending and on wages, which appears to rule out any long term contracts or players with high salary demands. The Nigerian striker, last seen in English football three years ago, was on the books of Qatar club Al Rayyan last season. Yakubu's signing certainly comes as a surprise but it would seem to fit Reading's transfer profile right now.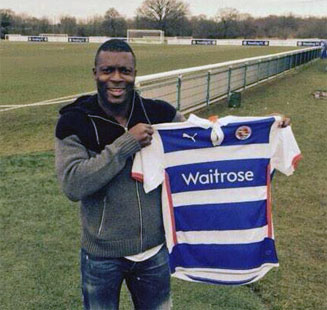 Speaking as the club confirmed the signing Steve Clarke said "Yakubu brings a fantastic scoring record to this club and his addition will complement the strikers we've already got at Reading and help us to improve as a team in latter stages of the season. I know all about him as a player and I have heard very good reports about him as a personality in the dressing room. He is no-risk signing for us."

Yakubu, full name Yakubu Aiyegbeni, is well known for banging in goals in the top tier of English football. He scored 29 league goals for Portsmouth before a 7.5 million pound move to Middlesbrough. At the height of his career Everton paid Middlesbrough over 11 million pounds for his services in the summer of 2007. After a further 25 league goals for Everton he moved to Leicester on loan and then to Blackburn. At Blackburn he scored a total of 18 goals in just 30 starts.

He scored a total 114 goals in his English career which stretched from 2003 to 2012 before a million pound move to Chinese club Guangzhou. He has a career total of 468 games and a very impressive strike rate which has seen him score 198 goals. Despite his long career he is still only 32 years old and may still have something to offer the Championship. Reading fans point to the signing of Jason Roberts that worked as a catalyst to Reading climbing the Championship table in the past - there's hope that Yakubu's experience and goals could rejuvenate the season. Yakubu should be available for selection next Saturday as Reading travel to Wolves for their Championship fixture.

Last week's rumour surrounding the signing of Danish international Lasse Vibe faded rapidly after Reading were reported to have offered only half the amount IFK Goteborg were expecting. Interest in Vibe seems to have picked up elsewhere meaning the player is now well outside of Reading's budget. The signing of Yakubu further shows Vibe will not be signing for Reading. With Yakubu signing and Pogrebnyak having an excellent game at the weekend (and seemingly not going anywhere today), Steve Clarke can turn his attention away from looking for a striker. Reading fans will be wondering if the club have any other surprises on transfer deadline day, or if Yakubu will be our only signing as the transfer window closes.
Share this article: