Reading FC Match Report: 2014/2015 Season - Championship


READING 0 WATFORD 1
Reading: --
Watford: A Abdi (70).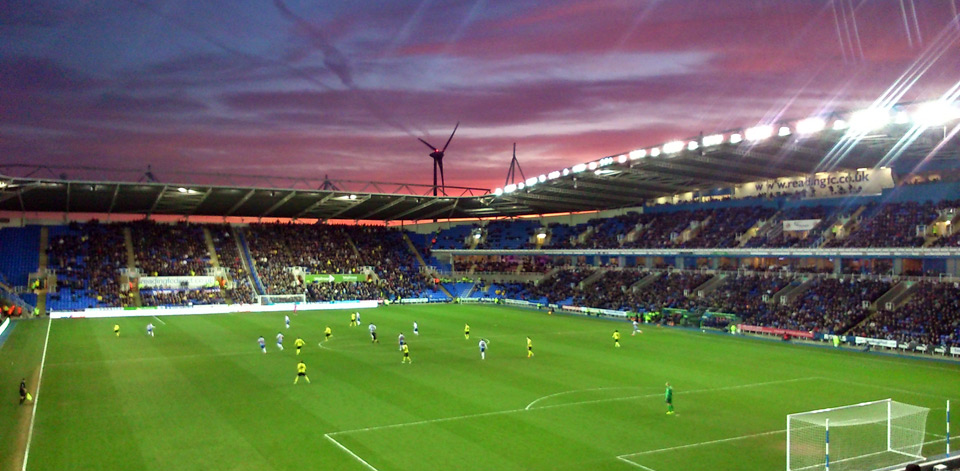 The departure of Nigel Adkins and the arrival of Steve Clarke helped to dispel the cloud of pessimism which has been hovering over the Madejski Stadium for the past couple of months, but in spite of a much improved performance in the first half, Reading again lost their way and were narrowly beaten by a strong Watford side reduced to ten men on the stroke of half time. In the space of a few days Steve Clarke rightly focused on tightening up the defensive side of the Royals game with immediate success. It would seem however, he faces a greater challenge getting his new team to find the back of the net.

It was an evenly contested first half as the Royals matched a Watford team, widely acclaimed as serious promotion candidates, in every department. It was noticeable how well Reading kept their shape defensively particularly in midfield. Reading were happy to allow Watford's back four time and space in their own half to establish a classic 'two banks of four' which is very hard, as Watford found, to penetrate. Offensively Reading started brightly, opening up the Watford defence down the left flank for Blackman to produce a deep cross to find Murray at the back post. With time and space Murray opted sensibly for a side foot volley which unfortunately lacked conviction and accuracy. A striker on top of his game would have at least hit the target. Murray made a significant contribution winning and holding up the ball all afternoon but his finishing was just not sharp enough. Federici diverted a Pudil header for a corner although it may have been going wide. Then the Reading 'keeper had to work harder to block a ferocious long range strike from Abdi. Apart from that neither 'keeper was troubled in the first half. As half time approached Reading began to exert some pressure on the Watford defence and the home fans finally found their voice. McCleary was beginning to go past Watford defenders, and just before half time he got the better of Angella who was panicked into handling the ball and, having already picked up a yellow card for an earlier foul, was dismissed. It should have given the Reading an advantage required to push on win the game, but that was not how it appeared at the beginning of the second half.

Watford managed to push the Royals back in to their own half after the interval and some timely interventions by Norwood prevented the visitors from creating scoring opportunities. On the break, Murray got behind the Watford defence but with only Gomez to beat he curled his shot wide of the far post. McCleary was showing signs of returning to his best form ably supported down the right by Gunter who seemed rejuvenated without the burden of captaincy. Ironically it was McCleary's enterprise which led indirectly to Watford's unexpected winner. With other options available, he decided to take on players in his own half and ran into trouble. Watford quickly took advantage of possession and set up a chance for Abdi to score calmly from the edge of the box. There followed a lot of huffing and puffing. Reading had chances, notably Blackman needed only a touch at the far post to steer the ball in to an empty net but somehow he managed to miss it completely. Obita was seeing a lot of the ball wide on the left but, as we all know, he does not have the pace to go past defenders. In spite of this he was left isolated facing two defenders on several occasions, which begs the question - where was Blackman supposed to be playing? There were half chances but Watford dug in and hung on for three points.

The official attendance was boosted by a large travelling Watford contingent but judging by the large numbers of empty seats, there are still a lot of season ticket holders opting to stay at home (or perhaps go Christmas shopping). The ray of hope came from the manger's post match interview. It was a refreshing change to hear the Reading manager speak coherently about what went well and what he intends to put right on the training ground next week. His tone and manner inspires confidence. Now it is time to see if the players are able to raise their game to produce the results.
John Wells
This Championship game took place 1995 days ago in the 2014/2015 season.